Become A YouTube Expert TODAY! Let Me Hold Your Hand And Show You HOW To Generate MASS Traffic And Revenue From YouTube!
Date:


YouTube is HUGE!
If you've been on the Internet for more then 5 minutes - You'll have heard of YouTube.
With over 6 BILLION hours worth of video played EACH month - it's THE place to be when it comes to getting in front of an audience...
...If you're a business and you're not currently focused on YouTube Marketing - you're making a HUGE mistake!
And that's why I'm here today...
...TO CHANGE THAT!
If you're an entrepreneur… when you hear statistics like you see above - your ears should be ringing...
...It's MONEY thats just lying on the table - ready to be grabbed...

And it's YOUR job to grab it!
Now...
Don't get me wrong.
I'm not for one moment saying it's easy if you don't know what you're doing.
You need to follow a PROVEN guide written by someone, like me, who KNOWS what they are doing and have actually experienced the rewards and overcome the challenges!
And that's why I'm here today...
Introducing...

YouTube For Business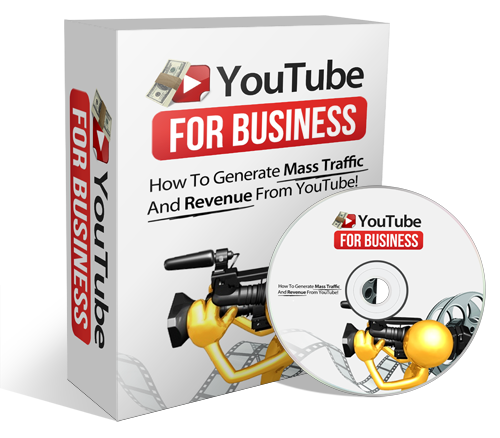 This is a comprehensive YouTube training program that will show you step-by-step how to get a massive amount of traffic through YouTube.
You're going to discover the exact tactics successful Internet marketers and major corporations use to gain exposure for their businesses.
Here's everything you're about to learn:
Section 1: Creating Your Youtube Account
Lecture 1: Setting Up Your First Account Runtime = 1:21
Lecture 2: Having Multiple Channels Under 1 Name: Runtime = 2:22
Section 2: Configuring Your Channel
Lecture 3: Icon & Art: Runtime = 3:28
Lecture 4: Description: Runtime = 2:01
Lecture 5: Channel Links: Runtime = 2:37
Lecture 6: Custom URL: Runtime = 2:13
Section 3: Uploading & Optimizing Your Video
Lecture 7: Uploading Your Video: Runtime = 4:00
Lecture 8: Monetization & Advanced Settings: Runtime = 2:12
Lecture 9: Custom Thumbnail: Runtime = 2:10
Lecture 10: Enhancements: Runtime = 2:17
Lecture 11: Audio: Runtime = 1:52
Lecture 12: Annotations & Inline Videos: Runtime = 5:58
Lecture 13: Captions: Runtime = 1:03
Section 4: Getting Views, Likes & Comments
Lecture 14: Free Methods: Runtime = 4:00
Lecture 15: Paid Methods: Runtime = 2:35
Section 5: Ranking Your Video
Lecture 16: Backlinks: Runtime = 1.14
Section 6: Your YouTube Analytics
Lecture 17: Analytics Overview: Runtime = 1:24
Lecture 18: Earnings Reports: Runtime = 1:59
Lecture 19: Views Reports: Runtime = 1:59
Lecture 20: Engagement Reports: Runtime = 6:00
Section 7: Conclusion
Lecture 21: Conclusion: Runtime = 0:48

Here's A Quick Sample Of One Of The Videos:
You're Getting Everything You Need To Succeed!
EVERYTHING you need to take you from a complete newbie YouTuber...
ALL the way to an expert, raking in 'the big bucks'...
It doesn't matter if you know nothing, and have never visited YouTube... OR if you're a veteran and just want to pick up some more tips... this amazing course is going to HELP you take things to the next level!
But How Much Is It Going To Cost?
Now...
As you can see from everything you're getting - the value on this is HUGE!
And for that reason alone, I could EASILY charge $997 and I'd still have plenty of VERY happy customers...
BUT - I'm not going to do that.
INSTEAD, I'm offering this for a limited time at a GROUND-BREAKINGLY low price of JUST $17!
That's right! $17 - and you'll get everything you need to know to drive huge amounts of traffic and sales from YouTube... it's really a NO brainer - but to make it an even MORE of a no-brainer... check this out...
100% Satisfaction Guarantee!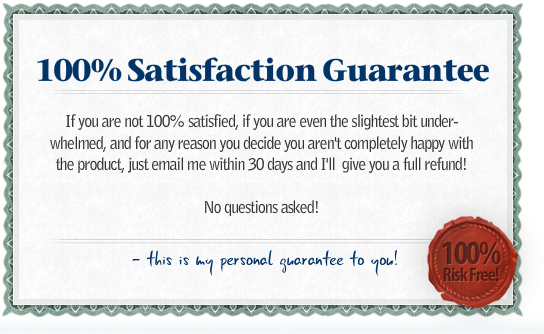 It's Time To Start Moving Mountains With YouTube
So if you're interested in finally establishing yourself on YouTube to drive more traffic and sales online, then you need to get this training program.
You've got nothing to lose, but a lot of traffic and sales to gain.
So Get Started Now!
YES! I want to learn how to use YouTube to generate mass traffic for my business!
This is a comprehensive YouTube training program that will show you exactly how to use YouTube to better your business.
The entire package could be worth well over $997 to your business results, but you're getting it for just $17 today!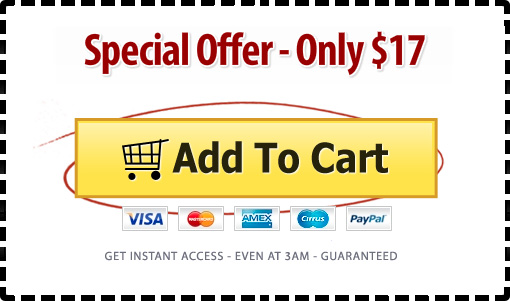 Grab Your Copy Of YouTube For Business!
This is your opportunity to get your slice of the massive YouTube pie.
Don't waste another second, your business DESERVES to get the information that's inside to help it grow
To Your Success,
P.S. If you decide to leave this page without downloading this YouTube training package, you might save yourself a few dollars, but how much is it going to cost you lost opportunity?
On the flip side, if you do invest in your business right now, you have an incredible opportunity to put your business in front of millions of potential customers.
You have the opportunity right now to get started on YouTube and gain massive exposure for your business!
So Get Started With YouTube Today, Before It's Too Late!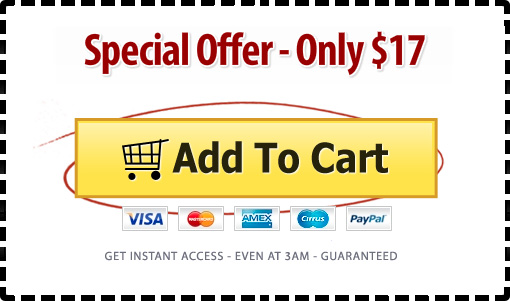 To Watch the Videos

Free
Click Here