Announcing The Brand New, 9 Parts, Step By Step Video Course That Shows You…

"Finally, Now You Can Create A WordPress Member Experience That Will Have Your Customers Coming Back For More. This WordPress Member Blueprint Is Aimed At Increasing Your Conversions and Business Growth On The Backend...Starting Right After You Implement This..."

This is not your typical "how to setup your WordPress site". While you'll learn basic member area setup, it answers deeper questions that most courses fail to answer to help you multiply your business profits and growth.
---
Dear WordPress Membership Site Owner,
Owning your own membership site can be a lucrative business model. That's a fact.

But once most business owners have setup the site, it's done in such a way that doesn't help your branding or community growth.

Why build a member community?

Membership sites are unique members-only sections of your site. Usually, people must pay to join the community, but the secret sauce is in your community and ultimately your backend sales. So essentially how you can make more money while building your community is key.

Now while there are several different types of membership programs, we're going to focus on the "must-haves" of a basic community to help you increase your conversions.

Like I said earlier, there's a lot of information and WordPress plug-ins out there that will help you secure your WordPress membership site.

But what do you do after that? After you've spent days and days on setting things up - what next?

What about...

• Ease of Product Content Access?
• Effective Communication?
• Community?
• Branding?
• Support or Training?

How do you setup your member's area in such a way to help your members?

You see, that's where many people get stuck - they don't know how to set up a WordPress membership site that creates a user friendly community which increases your backend sales for years to come.

The keyword is 'Community'.

Without a strong community, you can say goodbye to your future sales.
If you heard about a way to create a user friendly community while increasing your income and branding at the same time, would you be interested in learning more about it?

I thought you would.
Introducing...
Introducing WP Member Blueprint

9 Part Video Course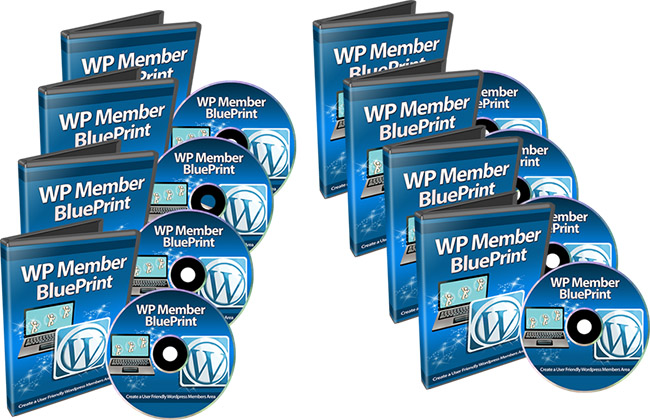 Here's a list of this 9-part video series in more detail:
Video #1) Introduction

In this specific video you're going to be given a quick overview of the entire video course as a whole. You're also going to be given a list of all the things you will need in order to make this work, and of course how it all works. We also want to make sure that you're in the right mindset before you implement the system – so that you can be successful.

Video #2: Mind-Mapping Your Layout for Best Conversions

Every single membership layout is going to be different, but before you think about conversions you need to have an idea of how you are going to apply this to your own membership site. Mind-mapping will allow you to see and visualize exactly how the system will impact your site.


Video #3: Must-Have Pages

How would you like to know specific pages that will help create an awesome experience for your members? To get you started I am going to give you a list of pages that you can set up within your member's area to help increase your community stick rate and future conversions. Having the correct pages is vital to creating a user-friendly customer experience.


Video #4: Getting Your Community to Interact

Getting your community to interact is a great sign of them trusting you. So, in this specific video I am going to give you practical methods that you can apply to get your community to interact with you and ultimately trust you, to the point that they are willing to buy products from you or buy whatever you're promoting through your affiliate link.

Video #5: Effective Communication

When your community interacts with you, you need to make sure that you have systems in place that provide effective communication between you and them as well as between each other. So, in this specific video I'm going to cover how to make sure that your WordPress blog is able to provide a solution to this need.


Video #6: Increase Cohesiveness through Training

Cohesiveness is the act of how well your customers are staying in your WordPress member's area and how well they enjoy coming back to your site. Now, in order to increase cohesiveness you have to go further and gain their trust continually on a consistent basis. Training is a great way to increase this specific factor, but you have to do it in such a way for it to actually work. Therefore, I'm going to give you some actual practical ways of using training to effectively achieve this.


Video #7. Increase Interaction Further

There are many different methods to increase interaction further. So in this specific video I am going to give you more practical ways that you can use to increase interaction, which often results in an increase in stick rate, which additionally results into a great following.

Video #8. Action Paths

Now that you have your customers interacting with your member's area, with you, and with each other, you want to make sure that you take a step forward and focus on action paths. In this video, action paths are basically ways to get your customers to take action so that you help them succeed and they feel like they have actually got something out of your member's area.

Unfortunately most customers buy a product, take a look at a product, and don't do anything with the product, so they end up becoming frustrated. But we want to avoid that by helping them take action and helping them succeed with your product. If you can do this, you'll have a customer for life.



Video #9. Basic Branding

While getting people back to your member's area, you want to make sure that your company brand or your personal brand is being branded in the minds of your customers. Branding is key, especially if you want to build a community that buys your products in the future. So in this specific video I am going to cover basic WordPress branding.

Unfortunately most WordPress membership site owners forget about branding, and don't realize that it hurts them in the long run. There's not a whole lot that you have to do - it's very basic, and only costs you 10 minutes or less.
Grab this video course and learn how to create a Wordpress member experience that will make your customers feel at home and feel like they have taken action (which ultimately results in trust and backend sales).
Add this product to your cart now for only....
$67 $47

P.S. In this step-by-step video course you will get to watch over my shoulder as I answer the deeper questions that most courses fail to answer to help your multiply your business profits and growth.

P.P.S. You can download this product immediately after purchase – there's no waiting!