having a popular membership site is a great way to earn lots of recurring income.
recruiting an army of
affiliates is an essential part of exploding your sales
Use a trusted affiliate marketplace like jvzoo to look after your affiliates and give yourself a huge leg up over your competition.

From The Desk Of: BOMV
Dear Reader:


Setting up a membership site has gotten a lot easier over the last year. Not only that, it has gotten a lot cheaper!

(Think free!)



If you have never set up a membership site before, you should give S2member a try. It is very powerful and it is free. It offers up to four paid levels and a free level, plus file protection and a whole lot more.

The only issue with the free version used to be that it did not integrate easily with a third party affiliate program. You had to set up your own affiliate program and integrate it that way, or pay a programmer to integrate it with a third party.

Having a third party looking after your affiliate program gives you a lot more credibility with your affiliates, not to mention you do not have to look after paying the commissions.


However this is no longer an issue. You can now integrate your membership site with JVZoo!

There are many advantages to using JVZoo as your affiliate system for your S2member site:
Offer your affiliates instant commission payments

Instant credibility with your potential affiliates


Automated billing and commission payments

Manually or automatically approve your affiliates

Control how affiliates are paid.

Fully integrated with the S2member levels
Just by integrating this platform with your membership site you are bound to increase your profits.


This four part video series will take you through the
whole integration process.

Here is just some of what you will learn:
How to do a basic S2member setup

How to set up your JVZoo products for your first level

How to set up your other levels in JVZoo

How to integrate Custom Capabilities into JVZoo

How to set up a protected OTO in S2member and JVzoo


and lots more...
Wait a minute - there's more! I am going to give you my custom code that I wrote myself to create a true one time offer in S2member and JVzoo. This is a valuable bonus!
Get Access To These Videos Now and Get Your Membership Into the JVZoo Marketplace.
Personal Use Only
Click The Button Below To Get Your Copy Instantly Via Download
for only
$27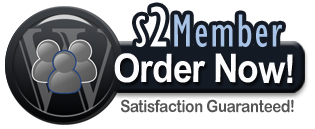 Rights:
You Have personal use rights only.
You may not sell or give away any of the provided content.
[NO] Have any kind of resale rights, give away rights or plr rights.

Sincerely
BOMV
PS. Get your copy of the video series now before the price goes up. This is an introductory price and will go up without notice.