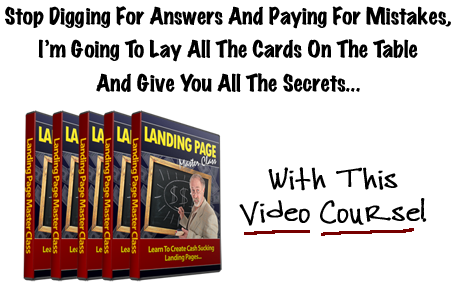 From The Desk Of...
RE:
Landing Page Master Class Video Course!
Dear Internet Marketer,
Everyone knows that having a list is the key to your success in this industry. That's true and all, but having a great landing page that converts like
crazy
and produces a
responsive list
is the "true" key.
So I guess your next question is...

Don't worry, I'm going to tell you, but first I have a
few
questions for you...

Do you currently have a list that is "
cold
" and "
unresponsive
"?

Do you have high quality products, but your
small
list is killing your profits?

Do
you even have a list?

The concept is
pretty
simple. First you need to have a compelling squeeze page to attract potential customers.
Then
you need to drive traffic to your page.
This will ultimately bring more subscribers, which leads to
more money
!
Sounds real simple, right?
Well, actually it is. It's finding all the elements to make it happen that can be confusing. Well, I have decided to hand out all the "hard-to-find" information and show you
EXACTLY
"how" to do it
yourself
.
Look, paying someone to build you a landing page can cost a fortune... and you aren't always going to get what you wanted or had in mind either.
Trying to read some eBook full of computer talk can be
overwhelming
and
confusing
just trying to comprehend what is being said.
I wanted to give the real answers people want. I was tired of seeing eBooks or videos that just said, "Do A, B, and C" and then
conveniently
leave out other critical info that puts an immediate halt to any progress you may be making.
I thought I could do an eBook myself, maybe a PowerPoint video presentation to explain, but then...

I've made a video course where you can watch over my shoulder through the whole process!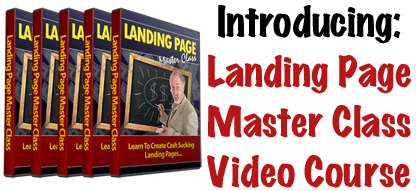 from start to finish
, the exact process to creating your very own
high converting
landing page system. I'll show you everything from...

What tools you will need to
create your landing page
system

Where to go and how to get a
domain name
and
hosting

What types of
free offers
to giveaway on your landing page

How to create a high converting landing page in a
simple and easy-to-follow process

How to set up your very own
download page
to ensure that your subscribers receive their free offer from your landing page

Tips and suggestions on the way your
content
and
formatting
of your landing page needs to look

Helpful traffic tactics that will
drive
that much needed "targeted" traffic to your up and running landing page

How to get your
opt-in form installed
correctly on your landing page

Easy
HTML instructions that even a kindergartener could understand!

The 4-1-1 on
graphics
... how to find them, order them, and load them up to your landing page

How to make sure that your download for your free offer is up and running
correctly
and ready for subscribers to download

Find out why a landing page is so important in your list building efforts

Almost
2 hours of hands-on training
packed into
11
incredible videos


Everyone knows that when you are getting into a business there are investments to be made. One of the biggest investments you will make as an internet marketer is learning the
right way
to set up a landing page to start building a list.
Now, there are courses out today that do not offer even
half
the information I'm letting you in on and charge anywhere from
$97-$197
.
You would be getting a huge bargain if you could find one for
$97
. So, I thought to myself that it would be pretty cool if you could get your hands on a
massive teaching course
such as this for a small price of only...



Since this entire
video teaching course
if about me delivering above and beyond the call of duty, I have decided to include a bonus that will really make you confident in this great offer that I am giving you today!
Most people give a
30-day money back guarantee
, so I felt like I had to really over deliver on this one!
So, I give my word right now that if you accept this offer and order now, I will include a full iron-clad
60-day money back guarantee
... no questions asked...
nothing
....
nada
...
zip
,
period
.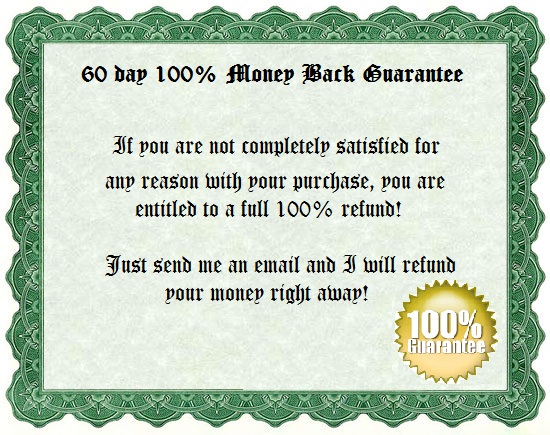 What could be better than gaining a first-hand look at a system that can
create profits
you never imagined and for such a small once-in-a-lifetime offer!
Let's face it people... the only way you will survive in the online marketing world is through a "responsive" and "targeted" list of
potential
buyers... and the most productive and easiest way to do this is by creating an impressive and professional looking landing page...
Ask any marketer and they will tell you the same...
You literally have every single tool that you need to create your very own landing page and its laid right out before your
very
eyes... and you simply
can't
get quality like this anywhere nowadays!
Take a moment and think to yourself...
"What would it be worth to you to be able to finally have financial freedom?"
This means to have that much needed quality time to spend with your family,
more money
to spend as you need and want, and of course the
luxury
of getting to do all of this from your favorite recliner at home.
Can you
really
put a price tag on something like that... I didn't think so either!
Take this opportunity today and get your copy of the
"Landing Page Master Class"
video course
NOW
!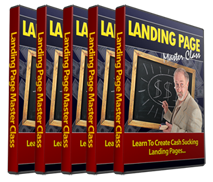 To Your Success!
P.S. Remember that you will be receiving a bonus
60-day money back guarantee
..."What Do You Have To Lose?"
P.P.S. Don't be the last one to get your hands on this amazing offer... and for such a small investment that you simply can't pass up!
Grab Your Copy Today
!